This month I am going to share some recipe ideas for Thanksgiving. We will start this week with appetizers. I have a love/hate relationship with appetizers. Much like the chips they bring out at a Mexican restaurant, eat too many and there is no room for the main course! And who doesn't want the main course? But who doesn't want appetizers? Below are some of my favorites, and a few that my friends have shared.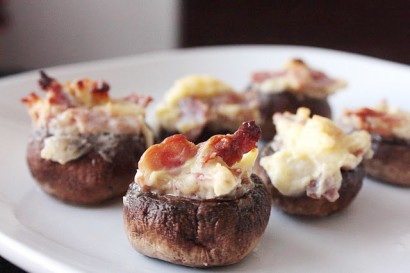 Shawn's Stuffed Mushrooms
  Two large packages of mushrooms Two packages of cream cheese One pound bacon cut into small pieces One yellow onion – chopped Worcestershire sauce to taste 1 teaspoon garlic powder (or to taste) Pull tips off mushrooms Brown bacon Add onions Drain grease In a separate bowl add all ingredients except mushrooms and mix well Spoon into mushrooms and broil until tops are brown and bubbly. You can spoon out more of the mushroom to make more room for filling.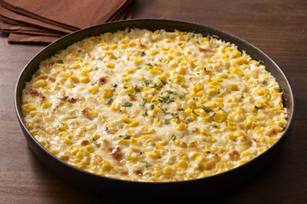 Nancy's Corn dip recipe (we call it CRON)
2 cans of Mexicorn, drained
1 small can of chopped green chiles
1 cup of mayonaise
1 cup of sour cream
2 cups of cheddar cheese
1-2 tbsp of sugar
chill before serving. enjoy with fritos!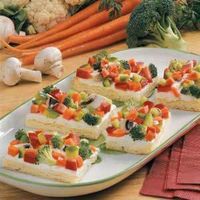 Beverley's Veggie Bars
  2 8 ox. Cans refrigerated crescent dinner rolls 2 8 oz. Pkgs cream cheese softened ¼ c. mayo 1 (1 oz) envelope Ranch style salad dressing mix 1 medium size sweet red pepper, chopped 1 medium size green pepper, chopped ¾ c. (3 oz.) shredded cheddar cheese ½ c. coarsely chopped broccoli flowerets ½ c. coarsely chopped fresh mushrooms
Unroll crescent roll dough.  Place in lightly greased 15x10x1 jelly roll pan*, pressing edges and perforations together to line bottom of pan.  Bake at 350° for 7 to 8 minutes or until brown.  Cool.
Combine cream cheese, mayo, and Ranch mix, beat at medium speed with mixer for 1 minute or until smooth.  Spread over crust in pan. 
Combine peppers, and remaining ingredients; sprinkle over cream cheese mixture
Cover and chill 8 hours.  Cut into 1 ¼ inch squares
Yield = 8 dozen
(*I just use a 13x9x2 pan)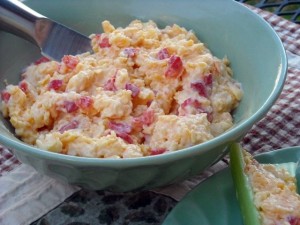 Beverley's Pimento Cheese
  1 – 8 ounce package cream cheese 1 – 12 ounce package extra sharp cheddar cheese, shredded (or about a 4 cup bag of the shredded, just make sure it's extra sharp) Mayonnaise to moisten 1 – 4 ounce jar pimentos, chopped I stuff celery and jalepenos for appetizers.  Then use with leftover rolls the day after, if there is any left.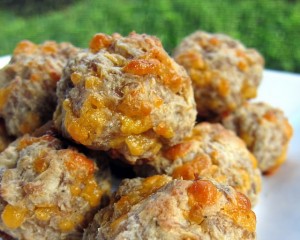 Sausage Balls
  3 cups Bisquick 1 lb. breakfast sausage cooked 1 lb or 2 cups grated cheese little dab of water to help mix together Mix all ingredients well.  Shape into marble size balls.  May be placed in covered container or storage bag and frozen until ready to cook.     Arrange balls on a lightly greased cookie sheet and bake at 350 degrees for 20 minutes or until slightly browned.