Ahhhhh, the time has come.  My favorite part of Thanksgiving. Desserts. So here is just a sampling of some of my favorites. And yes, I make all of these. Don't judge me!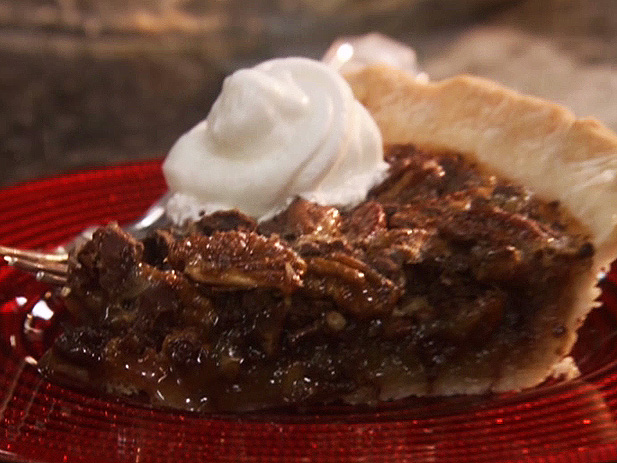 Chocolate-Pecan Pie (we call it "Chococan Pie")
Preparation Time: 10 minutes Cooking Time: 5 minutes Other Time: 55 minutes Yield:  Makes 8 servings  
1/2 (15-ounce) package refrigerated piecrusts
1 1/2 cups chopped pecans
1 cup (6 ounces) semisweet chocolate morsels
1 cup dark corn syrup
1/2 cup granulated sugar
1/2 cup firmly packed brown sugar
1/4 cup bourbon or water
4 large eggs
1/4 cup butter or margarine, melted
2 teaspoons cornmeal
2 teaspoons vanilla extract
1/2 teaspoon salt
Fit piecrust into a 9-inch deep-dish pie plate according to package directions; fold edges under, and crimp. Sprinkle pecans and chocolate evenly onto bottom of piecrust; set aside.   Combine corn syrup and next 3 ingredients in a large saucepan, and bring to a boil over medium heat. Cook, stirring constantly, 3 minutes. Remove from heat.   Whisk together eggs and next 4 ingredients. Gradually whisk about one-fourth hot mixture into egg mixture; add to remaining hot mixture, whisking constantly. Pour filling into prepared piecrust.   Bake at 325° for 55 minutes or until set; cool on wire rack.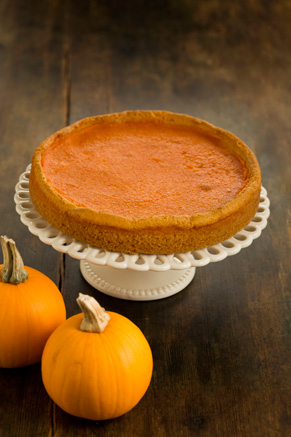 Remember when I gave you Paula Deen's recipe for Double Chocolate Gooey Butter Cake? Feel free to make that for Thanksgiving.  You can also be seasonal and make the Pumpkin Gooey Butter Cake.  Same premise: two sticks of butter, a box of confectioner's sugar, and a slab of cream cheese.  What's not to love?
Pumpkin Gooey Butter Cake
Cake:
1 18 1/4-ounce package yellow cake mix
1 egg
8 tablespoons butter, melted
Filling:
1 15-ounce can of pumpkin
1 8-ounce package cream cheese, softened
3 eggs
1 teaspoon vanilla
8 tablespoons butter, melted
1 16-ounce box powdered sugar
1 teaspoon cinnamon
1 teaspoon nutmeg
Preheat oven to 350 degrees. To make the cake, combine all of the ingredients and mix well.  Pat the mixture into a lightly greased 13×9-inch baking pan.    Prepare filling:
In a large bowl, beat the cream cheese and pumpkin until smooth.  Add the eggs, vanilla, and butter and beat together.    Next, add the powdered sugar, cinnamon, nutmeg, and mix well.  Spread pumpkin mixture over cake batter and bake for 40 to 50 minutes.  Make sure not to over bake as the center should be a little gooey. Serve with fresh whipped cream.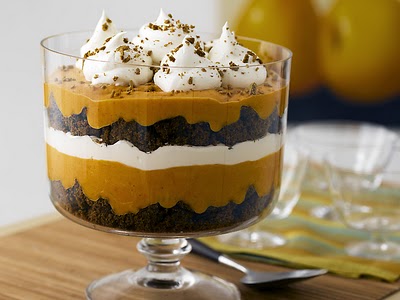 Pumpkin Gingerbread Trifle
Speaking of Paula, this is another great recipe of hers.
2 (14-ounce) packages gingerbread mix
1 (5.1-ounce) box cook-and-serve vanilla pudding mix
1 (30-ounce) can pumpkin pie filling
1/2 cup packed brown sugar
1/3 teaspoon ground cardamom or cinnamon
1 (12-ounce) container frozen whipped topping
1/2 cup gingersnaps, optional
Bake the gingerbread according to the package directions; cool completely. Meanwhile, prepare the pudding and set aside to cool. Stir the pumpkin pie filling, sugar, and cardamom into the pudding. Crumble 1 batch of gingerbread into the bottom of a large, pretty bowl. Pour 1/2 of the pudding mixture over the gingerbread, then add a layer of whipped topping. Repeat with the remaining gingerbread, pudding, and whipped topping. Sprinkle of the top with crushed gingersnaps, if desired. Refrigerate overnight. Trifle can be layered in a punch bowl.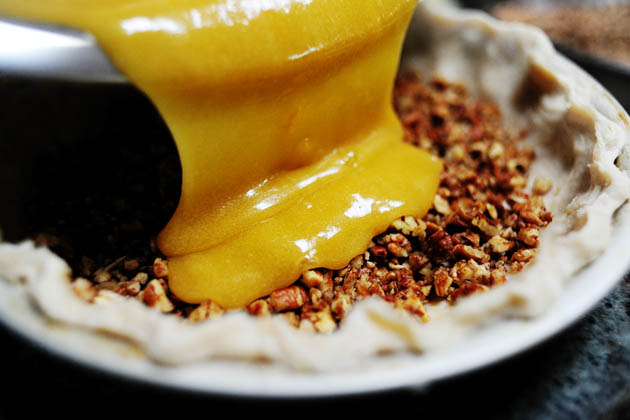 Pioneer Woman's "Pie That Will Make You Cry" Pecan Pie
1 whole Unbaked Pie Crust 
1 cup White Sugar
3 Tablespoons Brown Sugar
½ teaspoons Salt
1 cup Corn Syrup
¾ teaspoons Vanilla
⅓ cups Melted Butter (salted)
3 whole Eggs Beaten
1 cup (heaping) Chopped Pecans
Best pie crust recipe is "Sylvia's Perfect Pie Crust" found on tasty kitchen.com
Next, mix sugar, brown sugar, salt, corn syrup, butter, eggs, and vanilla together in a bowl.
Pour chopped pecans in the bottom of the unbaked pie shell.
Pour syrup mixture over the top. Cover top and crust lightly/gently with foil. Bake pie at 350º for 30 minutes. Remove foil, then continue baking for 20 minutes, being careful not to burn the crust or pecans.
NOTE: PIE SHOULD NOT BE OVERLY JIGGLY WHEN YOU REMOVE IT FROM THE OVEN. If it shakes a lot, cover with foil and bake for an additional 20 minute or until set. Required baking time seems to vary widely with this recipe. Sometimes it takes 50 minutes; sometimes it takes 75!
Allow to cool for several hours or overnight. Serve in thin slivers.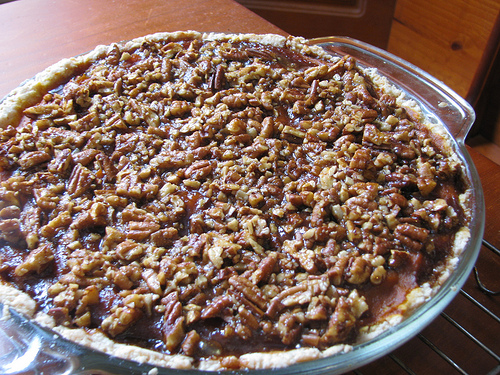 Rhonda's Pecan Glazed Pumpkin Pie
2 eggs
1 can pumpkin
1 can evaporated milk
1 cup brown sugar
2 teaspoons pumpkin pie spice
1 deep dish pie crust
1 cup pecan pieces
2 tablespoons melted butter
Preheat over to 375 degrees. In a large bowl, whisk together eggs, pumpkin, milk, 3/4 cups sugar and pumpkin pie spice.  Place frozen pie crust on preheated baking sheet. Pour filling into crust. Bake 30 minutes. In small bowl, combine melted butter, remaining sugar and pecans. Crumble over top. Bake additional 20-30 minutes.  
Pilgrim Hat Cookies
16 chocolate wafer cookies 
1 tube orange frosting with piping tips
16 small peanut butter cups
Place cookies on work surface; squeeze a dime-size dot of frosting in center of each
Unwrap and invert peanut butter cups on frosting, pressing down gently
Using the round piping tip, pipe a "hat-band" with frosting around peanut butter cup and a square "buckle." Let frosting set before storing.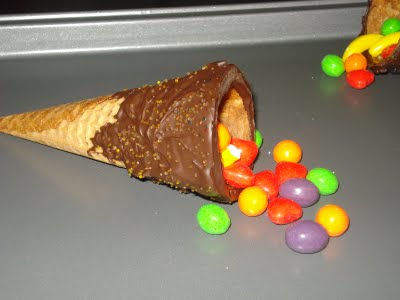 Patti's Give Thanks Cornucopia
8 ice cream waffles or sugar cones
3 ounces semisweet chocolate, melted
Assorted fall candies (like candy corn, candy pumpkins, fall colored M&Ms, etc.)
Dip edges of the cones into the melted chocolate – let stand on wire racks or waxed paper until chocolate is firm – Place each cone on it's side and fill with candy.
You can also use these for place cards.   To make the place cards, write names on pieces of cardboard and attach the cards to cones with melted chocolate.