One of my dearest friends got me hooked on these products. My favorites are the lotion and lip balm.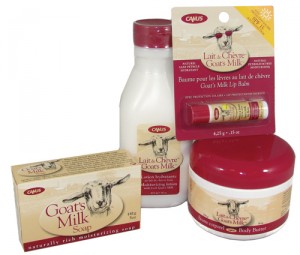 Gift shops carry this product line. However, www.drugstore.com sells it too and you can get twice as much product or more for the same price. I actually prefer to purchase the lotion from drugstore because it comes with a pump dispenser.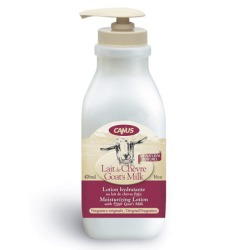 From canusgoatsmilk website:
Ever since Cleopatra filled her bathtub with it and jumped in, fresh goat's milk has been revered for its superior moisturizing properties.
Little did La Belle Cleo know that the reason fresh goat's milk left her skin feeling silky smooth and supple was because of its unique protein structure. Shorter protein strands allow for easy absorption.  A whole host of natural minerals and vitamins in fresh goat's milk are absorbed right along with all that protein, helping to nourish healthy skin and heal the rough patches.
The lotion is fantastic. No greasy sticky feel. Absorbs very quickly. The soap line is great and works especially well for people with eczema. I have the lip balm in just about every room in my house, along with my purse.  I hope you give it a try.