Over the weekend, my husband and I had to go to McKinney, Texas.  It ended up being a nostalgic surprise trip for us! First, we stopped by a Dairy Queen – YUM – and had a dipped cone.Where have all the Diary Queens gone? Is it just a southern thing or are they all over the world? Wherever they are, they aren't in my area anymore so it was fun to stop in and have a dipped cone. Years ago, every time my son and I took a road trip it was not complete without a pit stop at the DQ.
After we fueled up on DQ, we headed toward downtown McKinney, and found Mom and Popcorn. We had such a fun time in this store, and I brought home a ton of goodies, you know, for research to be able to give my dear readers a good review! I got some really cute stocking stuffers and birthday gifts of prepackaged candy that either I thought was funny or reminded me of olden days. Yeah, I said olden days. . .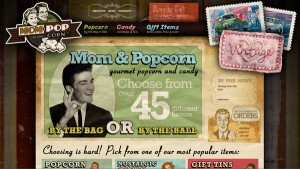 In addition to the packaged candy and gum goodies, they also had a huge selection of assorted flavors of salt-water taffy.  All very fresh and delish. And, are you ready? Forty-five flavors of popcorn.  Now I didn't try all 45 flavors of popcorn, or over 20 flavors of salt-water taffy, but I tried enough to tell you that this stuff is good! Good and plenty! I crack myself up sometimes. . .  They also carry a huge selection of lunch boxes, tins, pails, and gift boxes. A great gift idea to send to someone for birthday, get well, etc.
Which got me thinking about nostalgic candy, and how happy it makes me when I see something I haven't seen or thought about in years. Not everything/everyone I haven't seen or thought about in years makes me happy to see again, but nostalgic things really do.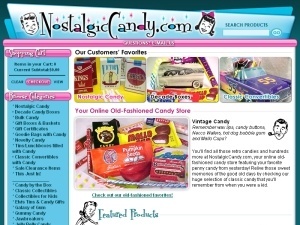 I searched online and found nostalgiccandy.com. Made me all giddy inside. My favorite thing about this site is that you can order "decade boxes" filled with candy from a specific decade. What a great idea! Even better is the price. You can get a decade box for under $25. Sadly their free shipping doesn't start until you purchase $175, and unless you want to order a lot of stuff at once I think that would be hard to reach.
I hope you take a trip down memory lane and check out these two sites. Let me know if you order anything!  Now that my research is over, I need to spend the rest of the day on the treadmill. Tootles!