Enjoy my post title? I try so hard to be clever.  This is yet another post for women over 40.  All you youngsters need to go send a text or something.  I really shouldn't say just women either, because I think men like to take care of their skin too.  ROC is a drugstore brand of beauty creams that work just as good as those expensive products. Last week I gave you one of those expensive products, Genifique, and told you it was not a wrinkle remover.  Today I'm giving you two great products that will diminish those wrinkles.
ROC Retinol correxion deep wrinkle cream is an intense anti-wrinkle cream that will help diminish wrinkles while also giving you a great moisturizer.  Retinoid products can still be found in prescription strength, but are very potent.  Years ago my dermatologist prescribed Retin-A. I hated it.  All I did was peel.  I remember telling him that and he seemed to think the peeling was worth it because I wouldn't wrinkle, but it wasn't worth it to me.  Fast-forward about 15 years and I started getting some real old lady wrinkles.  Retinol helps reduce the wrinkles without the constant peeling.  Most product information will tell you to start out slow and not use every night because if you do you will see peeling.  Of course, you could always use every night for 12 weeks and at the end of it look 20 again!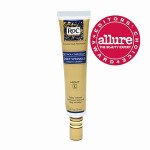 Ok, back to ROC.  ROC is the cheapest Retinol cream I have found.  The deep wrinkle cream shown above is $21.00.As you can see from the graphic above, it has been named as an Editor's Choice product by Allure Magazine.
I also love ROC Retinol correxion eye cream, which will reduce the crow's feet around your eyes and improve elasticity.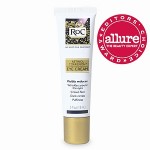 The eye cream also runs about $21.00.  Both of these products come in small tubes but a little dab'll do you.  I've had both of mine for over a year and still have plenty left.  Now, if you know me at all you know I don't use the same products every night. It takes a village.  Instead of putting all my magic potions on at once, I mix it up.
If you have used a Retinol cream, please leave me a comment and tell me what you use and your results.  And if you know of any miracle products, please share.  As soon as you do I'll rush out and add to my arsenal!