Okay, okay, let me start first by stating that this is a tad expensive.  I have purchased many a blender over the years, and none have ever been able to handle what the Vitamix can handle. At the time that I purchased mine, I did so mainly for the ability to make protein shakes and smoothies. I was delighted to find out that this brand is the same blender that is used at Starbucks and Smoothie King (more commercial grade blender, not the one you need for your home use).  Every day I make a smoothie that contains spinach and frozen fruit, along with oat bran, flax seed, and all other healthy additives, with some milk, protein, and yogurt.  It is delicious, no foolin'. You cannot taste the spinach at all, even though I add about 2 cups of spinach to the blender.  Frozen fruit doesn't even phase this thing.  It just blends right through. I have made frappuchinos that I would put up against Starbucks any day! This blender will pay for itself in no time! Try a bucket of frozen margaritas this time of year! You can even make ice cream and shakes.  Mine came with a huge recipe book and dvd. Another great selling point on the Vitamix is that I can add just a dot of liquid soap and turn it on at the end and it cleans it thoroughly.  Love that!  It comes with a great seven-year warranty.  So, considering it will plow right through ice, frozen fruit, and even carrots, it will be well worth the price.  There are several models out there. I'm giving you a link on Amazon of the cheapest one here.  I personally got mine from QVC, and it appears they are out of stock there.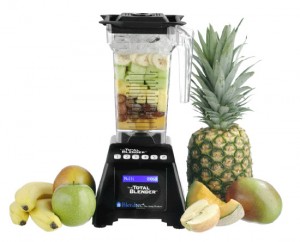 Full disclosure here.  Blendtec is a very similar blender, and personally is much more attractive than the Vitamix.  There is also a very big debate as to which one is the better one.  I read all this before making my decision to get the Vitamix.  I was leaning toward this one because the container is glass, vs. Vitamix, which is plastic. However, after I read reviews and researched, I felt like the Vitamix was the better choice.  That is just my opinion.  Both are pricey.
Let me know if you have either the Vitamix or the Blendtec, and how you use yours in the comments section.