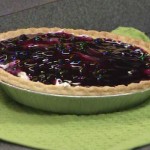 Who wants a refreshing dessert recipe? This is a simple, delicious pie recipe. No cooking involved. Originally titled Blueberry-Banana Pie. My friend renamed it Banerry Pie. We are cute like that. Plus the recipe makes two pies, so you can serve one, and give one to a neighbor.
Banerry Pie
2 single ready made graham cracker pie crusts or ready made shortbread pie crusts
1 8 oz. package of cream cheese
1 cup sugar
1 container cool whip
1 can blueberry pie filling
2 bananas
Fill bottom of each pie crust with banana slices. Mix cream cheese, sugar, and cool whip and spread over bananas. Top with pie filling. Chill before serving.
One little tip: usually the pie filling has more filling and less blueberries on the top. I actually spoon mine out of the can into a bowl before splitting between the two pies.