Wolferman's is known for it's English Muffins, but Wolferman's also carries great scones and tea breads. Just look at their website, and you will be ready to order just about everything on the site. Makes me hungry just looking at it.  Wolferman's has been around for many years, but was acquired by Harry and David in 2008.  Even though part of Harry and David, they still keep a separate website, so you will want to save both.  I love sending food to friends and family who are out of town, especially after surgery when they aren't up to cooking.  I'm sure my local friends and family wish I would send them something too.  But they get the personally made treats!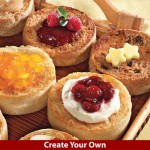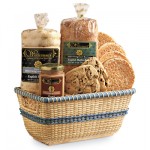 Harry and David is well known for fruit. They even have the fruit of the month gifts. Does that always remind you of the movie Christmas Vacation? Harry and David pears are worth every penny.
The pepper and onion relish is fabulous.  Mix with cream cheese and you have a wonderful dip.  My sister served this several years back at a party, and now I make sure to always have a supply on hand.  It is sold in sets of three, so you can keep some for yourself or give as gift. Or if someone compliments your fabulous homemade dip you can share your secret. Or not.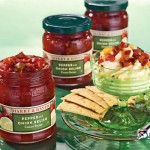 Have you heard of moose munch? I'm almost afraid to tell you.  It's so addicting.  It's caramel, chocolate, almond, and cashew flavored popcorn.
You can buy by the tin or in individual candy bar size. It. is. to. die. for.
Okay, I'm starving. Better go find something else to do to distract me STAT.