I love Panini sandwiches.  Here's a delicious one for you to make asap!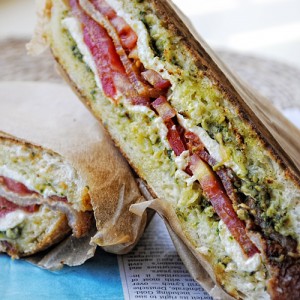 1/3 cup prepared pesto
1 loaf ciabatta bread (about 1 pound), halved crosswise and lengthwise
2 medium tomatoes, sliced thin and salted
8 ounces fresh mozzarella, sliced thin
8 slices thick-cut fried bacon (optional)
Heat a large skillet or griddle over medium-low heat. Spread pesto over all 4 bread slices. Top each piece with a portion of tomatoes and cheese; lay optional bacon over bottom slices. Place on warm griddle and cook until bread is crisp and golden and cheese melts, about 5 minutes per side.