I like easy side dishes. There is the staple that everyone makes: Green Bean Casserole, or as we call it "GBC". My husband is always in charge of making that.  He takes great pride in his GBC. I also always make Make Ahead Salad, a recipe I shared with you before. Here are a few others you may enjoy adding to your menu:
Crock Pot Corn
1 stick butter 8 ounces cream cheese 2 pounds frozen corn 1 4.5 ounce can chopped green chilies Melt butter and cream cheese together in a crock pot on high.  Add corn, one pound at a time while stirring.  Stir in green chilies.  Cook on low until warm.  I usually start this first thing in the morning – and it's ready long before everything else is.
I watched the Pioneer Woman's new show on Food Network and had never thought about making my mashed potatoes ahead of time. What a time saver. Here is the link to her recipe with photos and her personal charm. I heart the Pioneer Woman. I have followed her blog for a few years. I have always made mashed potatoes with butter and cream cheese, so when I saw she did it the same way it just made me feel so talented – just like her.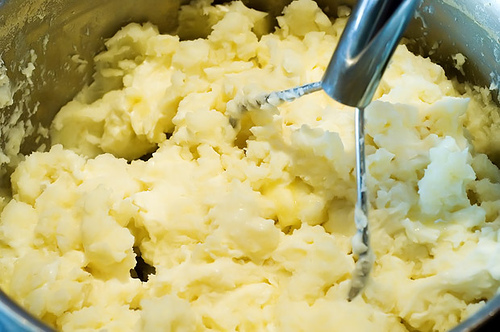 Mashed Potatoes
5 pounds Russet Or Yukon Gold Potatoes
¾ cups Butter
1 package (8 Oz.) Cream Cheese, Softened
½ cups (to 3/4 Cups) Half-and-Half
½ teaspoons (to 1 Teaspoon) Lawry's Seasoned Salt
½ teaspoons (to 1 Teaspoon) Black Pepper
Peel and cut the potatoes into pieces that are generally the same size. Bring a large pot of water to a simmer and add the potatoes. Bring to a boil and cook for 30 to 35 minutes.   When they're cooked through, the fork should easily slide into the potatoes with no resistance, and the potatoes should almost, but not totally, fall apart.   Drain the potatoes in a large colander. When the potatoes have finished draining, place them back into the dry pot and put the pot on the stove. Mash the potatoes over low heat, allowing all the steam to escape, before adding in all the other ingredients.   Turn off the stove and add 1 ½ sticks of butter, an 8-ounce package of cream cheese and about ½ cup of half-and-half. Mash, mash, mash! Next, add about ½ teaspoon of Lawry's Seasoning Salt and ½ a teaspoon of black pepper.   Stir well and place in a medium-sized baking dish. Throw a few pats of butter over the top of the potatoes and place them in a 350-degree oven and heat until butter is melted and potatoes are warmed through.   Note: When making this dish a day or two in advance, take it out of the fridge about 2 to 3 hours before serving time. Bake in a 350-degree oven for about 20 to 30 minutes or until warmed through.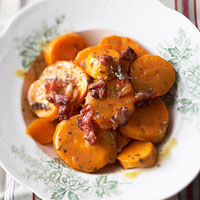 Orange Sage Sweet Potatoes With Bacon (Better Homes and Gardens)
4 
pounds sweet potatoes, peeled and cut into 1/4-inch-thick slices (about 10 cups)
1/2
cup frozen orange juice concentrate, thawed
3 
tablespoons packed brown sugar
1 1/2
teaspoons salt
1/2
teaspoon dried leaf sage, crushed
1/2
teaspoon dried thyme, crushed
2 
tablespoons butter, cut up
4 
slices bacon, crisp-cooked and crumbled
Place sweet potato slices in a 5- to 6-quart slow cooker. In a small bowl, stir together orange juice concentrate, brown sugar, salt, sage, and thyme. Pour over sweet potato slices; toss to coat. Dot with butter.   Cover and cook on low-heat setting for 5 to 6 hours or on high-heat setting for 2 1/2 to 3 hours. Before serving, stir to coat with orange juice mixture and sprinkle with crumbled bacon.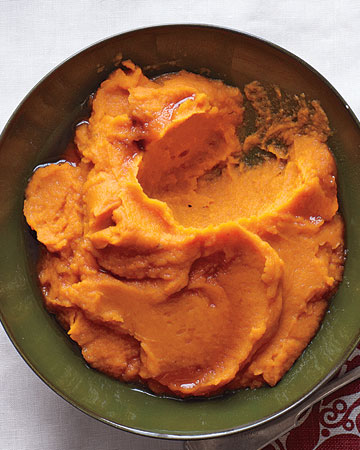 Maple Whipped Sweet Potatoes (Martha Stewart)
4 pounds sweet potatoes (about 7 medium) 4 tablespoons unsalted butter, melted 1/4 cup pure maple syrup Coarse salt and ground pepper   Preheat oven to 400 degrees. Prick sweet potatoes all over with a fork. Place on a rimmed baking sheet. Bake until very tender when pierced with a knife, 1 hour. When cool enough to handle, halve sweet potatoes. With a spoon, scoop out flesh (discard skins); transfer to a food processor. Add butter and syrup; process until smooth. Season with salt and pepper. Serve warm.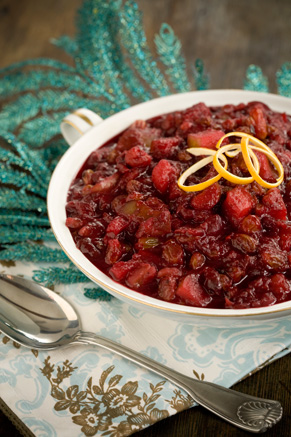 Wayne's Cranberry Sauce (Paula Deen)
1 cup sugar 
 1 cup water 
 1 (16-ounce) bag fresh cranberries 
 1 cup chopped apple 
 1 cup chopped walnuts 
 1/2 cup raisins 
 1/4 cup Grand Marnier 
 1/2 orange, juiced 
 1/2 lemon, juiced 
 1 teaspoon cinnamon 
 1 teaspoon nutmeg, freshly grated
 Combine the sugar and water in a large saucepan and bring to a boil. Add the cranberries and return to a boil, then lower the heat so that the liquid simmers. Add the apples, walnuts, raisins, Grand Marnier, orange and lemon juices, cinnamon, and nutmeg, and cook for 10 to 15 minutes. Remove the pan from the heat and let the sauce cool.
Serve in a side bowl with turkey or any preferred holiday dish.  
I hope you enjoy these recipes.  Please let me know how you like them if you try any of them!