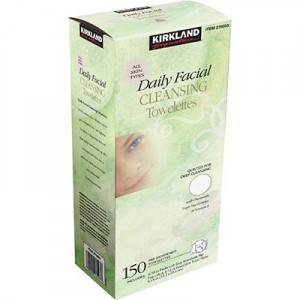 My favorite pre-moistened facial towelettes.  Kirkland is the Costco generic brand. I buy this huge box of 150 wipes for $12. It contains four 30-packs with a plastic snap lid, and two 15-packs with a resealable lid. They are a good size (6×8) and has a quilted side and a smooth side.  Made with Chamomile, Triple Tea Complex, and Vitamin E. I use these to clean my face before using my Clarisonic for the deep cleaning. And if they get off my war paint, they will get off yours!
If you aren't a member of Costco, I found them for $12.99 plus shipping at Amazon. I think even with the shipping it is a bargain because most of the pre-moistened wipes come 25 to a pack with the cheapest being about $5 a pack. So, six 25-packs at $5 each would run you about $36. (Now we all know I am not known for math skills, but that's the figure I got.)
Travel? Wouldn't be without them. So convenient to take travel packs with you anywhere you go. They don't burn your eyes or cause any irritation. They are alcohol free and oil free. I don't use my Clarisonic every single night, but I always use these to take my makeup off. Plus, if you are lazy, which I am, I can easily grab one of these and use while sitting in my recliner watching television.