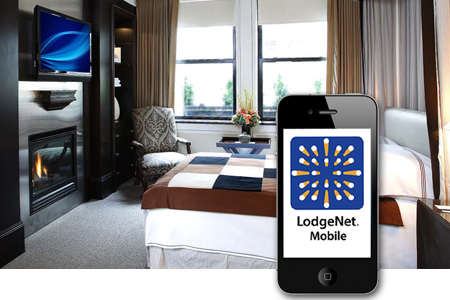 LodgeNet is a free app that I have on my iPhone. I haven't had the chance to use it yet, but I cannot wait to try it. The LodgeNet app acts as your own remote. Now, personally, as a germaphobe, this was all I needed to hear to be sold on it. I am the person who brings along super size zip lock bags for the sole purpose of pitching the remote in one, and the hotel phone receiver in the other. I cannot stand the thought of what could be on those things. I have issues. Don't judge me. . .
Anyway, moving on, not only does it solve your germaphobe issues, it allows your smart phone to act as the TV remote. The LodgeNet App allows you to interact with hotel services; such as room service, front desk, concierge, etc. AND, if that isn't enough, the app also provides recommendations for local attractions and restaurants.  The LodgeNet app currently works in over 85% of hotels, and I'm sure as the app improves, so will the areas covered, and the services provided.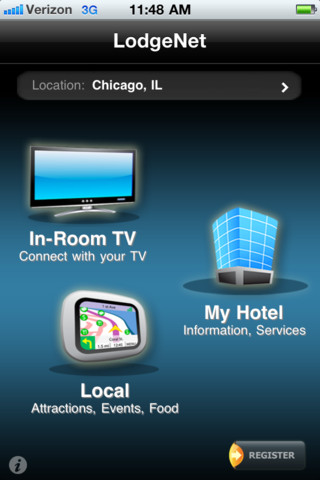 From the LodgeNet website:
LodgeNet Interactive Corporation (NASDAQ: LNET), the leading provider of interactive media and connectivity services to hospitality and healthcare businesses and the consumers they serve, has announced a groundbreaking LodgeNet Mobile App for the travel market.

"With 75% of travelers carrying smartphones today1, mobile devices have significantly changed how travelers behave and what they expect from hotels, airlines and every supplier within the travel eco-system," said Derek S. White, President of Interactive & Media Networks for LodgeNet. "The LodgeNet Mobile App was developed to be fun, fast and very easy to use so that travelers can customize their hotel and travel experience in everything from the movies they watch, to the restaurants they dine in, to the hotel services and local entertainment options they choose – all managed and controlled through their own mobile device."

"The LodgeNet Mobile App is unique because it fully controls the in-room interactive TV – which continues to be the centerpiece of the guest room experience as 98% of all travelers turn on the television – and it incorporates a super-suite of features that addresses the diverse needs travelers have over the course of their trip," White continued. "And with the LodgeNet Mobile App, currently available in over 500,000 guest rooms, we have a reach of over 200 million travelers annually in the most popular hotels and all major brands across the country. We believe many travelers will create an emotional connection with this unique mobile app by tying into the features that matter most to them when they are away from home."

Upgrading the Travel Experience Through In-Trip Engagement

Travelers who download the free LodgeNet Mobile App from the Apple App Store or the Android Market will have an "always-on" personal hotel and travel resource to help them plan their trip and enrich their time at their hotel destination. The LodgeNet Mobile platform and application was created in response to extensive research on how travelers interact with mobile and media technologies throughout their trip. This focus on "in-trip engagement" is reflected in the LodgeNet Mobile App's three feature sets:

In-Room Entertainment.  The LodgeNet Mobile App enables hotel guests to use their own smartphones or iPad devices in place of the in-room remote for navigating the LodgeNet interactive TV (iTV) system. "Today's tech-savvy consumers don't see the point of picking up a separate device just to watch TV," said Todd Kelly, Vice President of Mobile for LodgeNet, citing recent data that indicates 40% of users aged 18-34 prefer to control their TV viewing experience with a smartphone or tablet.2 "The mobile device-as-remote is the shape of things to come, and we want to be out in front of that trend." Kelly added that the LodgeNet Mobile app is designed to support both folio and credit card payment options as well as other value-added features such as an Interactive Program Guide, a highly requested service that will display the channels, times and programs available at the hotel where a guest is staying.
Local Area Services.  In a recent survey of travelers, more than 95% rated local recommendations as important to them.3 The LodgeNet Mobile App presents local dining and entertainment options to travelers in a mobile-optimized format that includes metadata such as photos and contact information. A team of editors recommends a select set of options targeted to the hotel class and traveler profile, based on local insight and ingestion of popular online user reviews. "Essentially, this is a virtual version of a personal travel planner that can help travelers get more out of their trip by connecting them with the lodging, dining and entertainment options that best suit their needs and interests," said Kelly.
Hotel Services.  Beyond entertainment and local information, the LodgeNet Mobile App also facilitates a range of services that can benefit hoteliers and improve the traveler's hotel stay experience. Examples of this include the ability to order room service while in transit or poolside, making on-site restaurant or spa reservations, and even mobile checkout with an e-mail receipt. "We designed the app to be easily customized by our hotel partners as well as to integrate with LodgeNet's iTV systems," explained Kelly.

"With the mobile device as the gateway to the interactive in-room experience, the LodgeNet Mobile App establishes the foundation for new revenue opportunities," said White. "Mobile has the potential to invigorate our entertainment base and extend our relationship with travelers before, during and after their stay by establishing more touch points, supporting more promotions and broadening payment options to make the travel experience more convenient and create more value overall. At the same time, it enables hotels to communicate with their guests in a seamless way between the mobile device and interactive television screen."
Have you tried this app yet? Please leave me a comment to let me know how it worked for you. I almost want to take a trip just so I can use it. Okay, maybe I just want to take a trip!