Don't have crow's feet or fine lines? Go outside and play. This post is for those that do.
I used to get facials on a monthly basis. When I had them, my esthetician would use a light very similar to the Lightstim after my facials. I have friends who have had microdermabrasion, and they said that a device similar to the Lightstim was used on them to promote healing. I stopped getting regular facials when I purchased my Clarisonic, because I just felt my skin was so improved. I purchased the Lightstim about six months ago and used it religiously for eight weeks, every night. Now I am on maintenance, where I use it one or two nights a week. I have noticed a difference in the fine lines around my eyes, and also around the parentheses I have around my nose and mouth. I'm sure there is a more technical term for them, but that's what I call them. I have small little creases around the area. Some people get injections for this, and I'm sure they work great, but have to be redone every few months. My dermatologist gave me an estimate of $950 to have the wrinkles and creases filled, and said it would last 3-6 months. I thought I would try the Lightstim first. Now granted, there may come a day when I get the injections, but I haven't yet. I found that the Lightstim diminished the wrinkles and sunspots. They are not completely gone, but they are smaller, and that makes me happy. The only negative I have is that I notice if I let a week go by without using the Lightstim, those pesky things do seem to want to come back.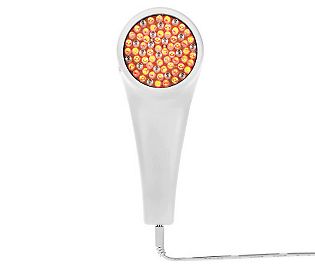 I will give you a few tips should you purchase the Lightstim. I use it on my face, neck, décolletage, and the tops of my hands. You need to apply your moisturizer in all the areas you are going to treat before using the Lightstim. The moisturizer is soaked into the skin by the device. The directions are that you treat each area for three minutes. The Lightstim does not have a timer, so I just use the timer on my iPhone, and usually do the treatment while watching television. It is a little time consuming, it takes me about 30 minutes to cover all the areas I want to cover. I'm giving you the link to purchase the item on QVC. QVC always has a thirty day no questions asked return policy. However, for this item, they offer a 90 day return policy, because it takes longer than 30 days to see a difference. It's a great incentive, because after three months, you should really be able to see if the Lightstim works for you or not.
Let me know if you have tried any injectables what results you have had. As always, I love to hear from you!