This recipe recently won Best Baked Beans in my Southern Living Magazine. If you are having any barbecues this summer, you might want to give this easy recipe a try!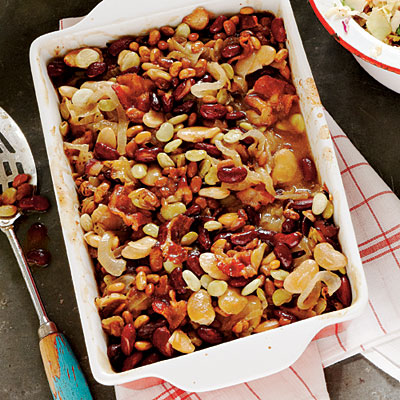 Grandma Gwen's Beans
Yield: Makes 10 servings
Hands-on: 45 Minutes
Total: 2 Hours, 5 Minutes
1 (1-lb.) package bacon slices
4 medium-size yellow onions, sliced
1/2 cup firmly packed light brown sugar
1/2 cup apple cider vinegar
1 teaspoon salt
1 teaspoon dry mustard
1/2 teaspoon garlic powder
2 (16-oz.) cans butter beans, drained and rinsed
1 (15-oz.) can lima beans, drained and rinsed
1 (16-oz.) can kidney beans, drained and rinsed
1 (28-oz.) can baked beans
1. Preheat oven to 350°. Cook bacon, in batches, in a large skillet over medium-high heat 8 to 10 minutes or until crisp. Remove bacon, and drain on paper towels, reserving desired amount of drippings in skillet. (We reserved about 3 Tbsp.) Crumble bacon.
2. Sauté onions in hot drippings over medium heat 8 to 10 minutes or until onions are tender. Add brown sugar and next 4 ingredients. Cover and cook 20 minutes. Combine butter beans, next 3 ingredients, bacon, and onion mixture in a 13- x 9-inch baking dish.
3. Bake at 350° for 1 hour.