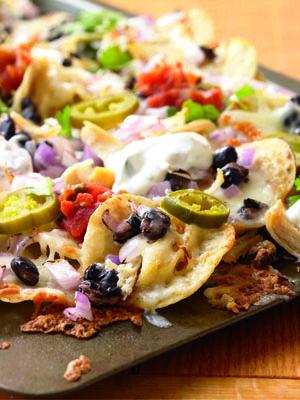 This yummy recipe is from Women's Health Magazine. Don't thank me, I love giving you these reasons to eat nachos and say that you are being healthy! Enjoy!
Nachos With Chicken and Black Beans
6 oz tortilla chips (round chips are preferable)
2 cups cooked chicken, shredded
1 can (16 oz) black beans, rinsed and drained
1 1/2 cups shredded Monterey Jack cheese
1/2 red onion, diced
Juice of 2 limes
1/2 cup light sour cream
Chopped cilantro Salsa (either fresh or your favorite bottled salsa)
Pickled Jalapenos
Preheat the oven to 425°F. Arrange the chips in a single layer on a large baking sheet. Spoon the beans evenly over the chips, then top with the cheese, chicken, and onion. Bake for 15 to 20 minutes, until the cheese is fully melted and bubbling. Remove.
Combine the lime juice, sour cream, and cilantro. Spoon over the nachos. Top with the salsa and jalapenos.
Makes 6 appetizer servings 330 calories 12 g fat (6 g saturated)
500 mg sodium