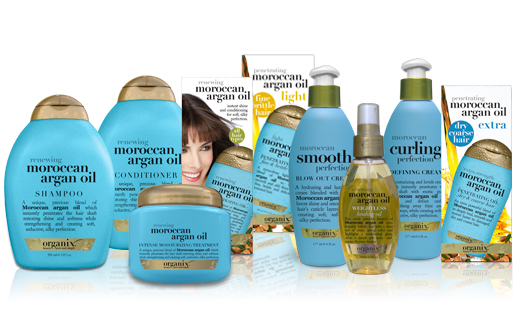 If you haven't heard, Argan Oil is all the rage right now. I have two friends who swear by it for their skin. I have tried the oil and it just sat on my face. It did not absorb. But that's just me, with my perfect skin. Others may find it absorbs and makes their skin feel great, like my two friends. That's the beauty of this world, everyone is different. Some people may love a product that others may not.
In my quest to love the Argan Oil, I purchased the Organix Moroccan Argan Oil Conditioner from my local mega-store. I loved it so much I went back and purchased the Shampoo. I will tell you that I do not like the end result of using both the Argan Oil Shampoo and Conditioner together. So I use one or the other, and another product for the shampoo or conditioner. That's just me. And as we all know, I have about five shampoos and conditioners in the shower to choose from. There are three shelves in my shower. My husband has one thing, his shampoo, and the rest are filled with my stuff. Lucky me!
Anyway, back to the subject. The Organix Moroccan Argan Oil Shampoo and Conditioner are both very inexpensive, like under $5 each. So not a big risk to try it out to see if you like it.
The Organix brand also carries a variety of shampoos and conditioners; such as Brazilian Keratin Therapy, Coconut Milk, Cherry Blossom Ginseng, and Cucumber Yogurt, just to name a few.  As soon as space opens up in my shower, I will try another selection from Organix.
Have you tried any of the Organix hair products? Have you tried Argan oil? Leave me a comment with your thoughts.