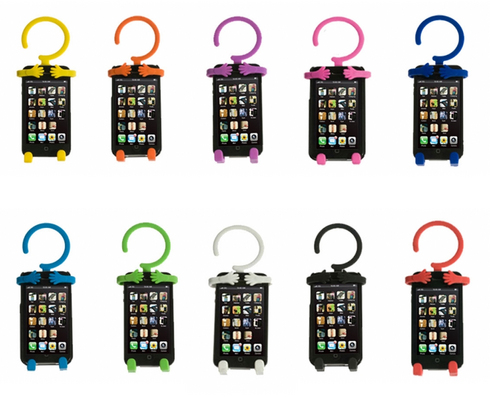 My new toy is the Bondi Flexible Cell Phone Holder. I use mine in the car and hang it from the rear view mirror. That way I can use my GPS on my iPhone. Plus, I can see text messages when they pop up instead of trying to reach for my car. I can even have my secretary Siri respond to a text if I need to quickly without being distracted from driving or have to pull over. I do not endorse driving and texting, and would not even respond to a text unless I thought it was safe. But if the universe was in perfect alignment, I could easily respond by hitting the button for Siri to take care of it quickly!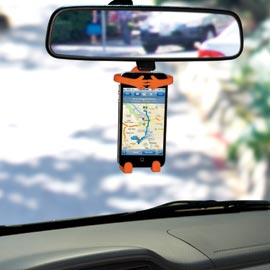 It's easy to be able to see the phone without moving your eyes off the road, much like any GPS.
But it's not just for the car. You can also use Bondi as a stand: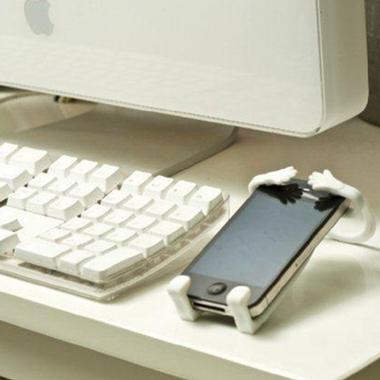 Or at the gym, in the garage, on the charger, or even hang from your makeup mirror while putting on your makeup. It's like a little assistant. Hope Siri doesn't get jealous!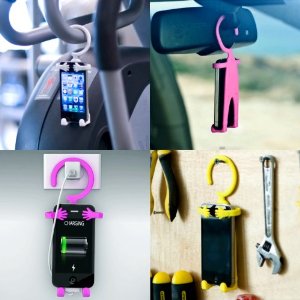 You don't have to worry about it fitting your phone because it's little arms bend and hug your smartphone in place. It is very secure, promise.
The link above is to a seller through Amazon and is priced at $14.95 with free shipping. I got a pink one for  me, and a black one for my husband. I wish they had a selection of all colors in one link but they don't, so just click out if you don't want pink and search for another color. Great, great gift for anyone!