This month I will be sharing cookie and candy recipes for Christmas and/or any Christmas Cookie Exchange Parties you might go to. Today I'm giving you one easy yummy cookie recipe and a candy recipe from my mom's recipe vault.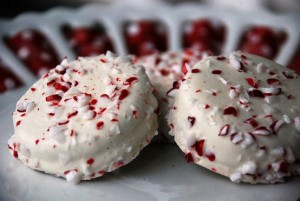 Don't these look yummy? If this doesn't say Christmas I don't know what does.  Well, I guess a Christmas tree does.
White Chocolate Covered Oreo Cookies
  1 package Oreo cookies 6 ounces white chocolate 1 package peppermint sprinkles   Melt white chocolate. Dip each Oreo in the white chocolate, then lay out on a paper towel or baking rack. Sprinkle with peppermint sprinkles. Let them cool for about 30 minutes.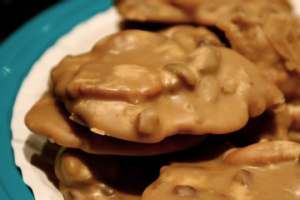 My mom made huge batches of pralines every year for us.  She loved making candy at Christmastime, but this was everyone's favorite.
Beverley's Pralines
  1 cup buttermilk 1 1/2 cups sugar 1 teaspoon baking soda 1 cup pecans 1 tablespoon butter dash of salt   Mix buttermilk, sugar, salt and stir over low heat for five minutes.  Add baking soda, cook 5 minutes.  Add pecans, cook five minutes.  Add butter and cook until soft boil (235 degrees).  Stir after off heat.  Drop on buttered wax paper.