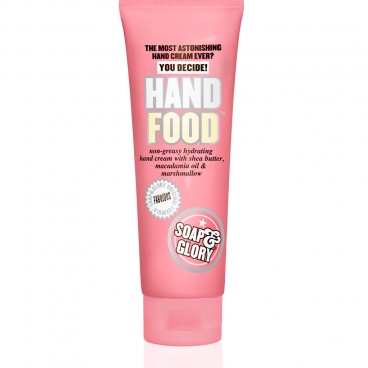 Another fabulous new product I got with my Sephora gift card at Christmas is Soap & Glory Hand Food
. I love this hand cream and got it in both the travel size of 1.7 ounce for $5, and the 4.2 ounce size for $12. I quadruple love this hand cream because it makes my hands and cuticles soft without leaving a greasy film. It is instantly hydrating to my poor dry hands this time of year. I find myself constantly putting on hand cream, and the Soap and Glory Hand Food absorbs quickly but lasts a good long while, or until I have to wash my hands again.
I also love the fact that it is a fairly inexpensive hand cream, compared to others I have tried, and loved, but were about three times the price for the same size tube.
The Soap and Glory line appears to be exclusive to Sephora. I cannot wait to try their other products, in particular their body butter.  Have you tried any products from this line? If so, please share your experience in the comments section.