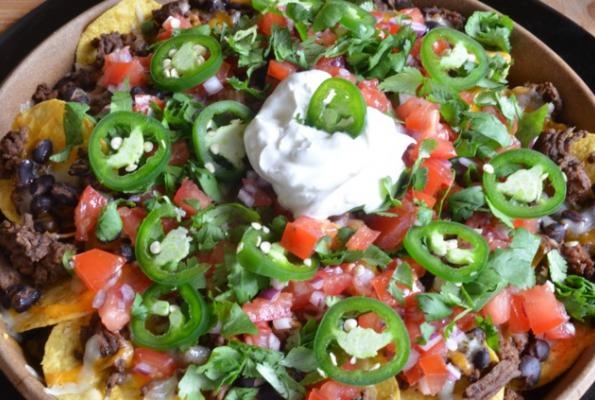 I love, love, love Mexican food.  Here's a great recipe from mytexastoday.com
Date Night Tacos
1 lb. lean ground beef
1 pkg. taco seasoning
1 bag thick, restuarant style Tortilla Chips
2 ripe tomatoes, chopped
1/2 cup red onion, finely chopped
1 can black beans, drained and rinsed
1 jalapeno, thinly sliced
1 small bunch cilantro, stems romoved and chopped
2 cups shredded Cheddar cheese
2 cups shredded Pepper Jack cheese
1/3 cup sour cream
Brown beef and add taco seasoning as directed on package. Let simmer.
Chop tomatoes and onions. Place in a small bowl together and toss well.
In a baking dish/tray, layer chips evenly all over.
Add taco meat, black beans and both kinds of cheeses.
Repeat this starting with another layer of chips on top.
Place in oven at 350 degrees for 15 – 20 minutes or until all cheeses have melted thoroughly.
Once out, top with cilantro, tomato & onions and jalapenos.
Add sour cream to center and serve.