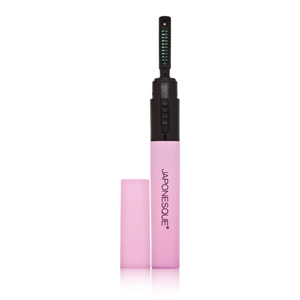 I purchased the Japonesque Heated Eyelash Curler
 from amazon.com about two months ago. I usually forgot to use it when I was applying my makeup in the morning. Then it dawned on me to put it in my desk drawer to use in the afternoon.  I notice that in the afternoons my eyelashes start to droop. Probably because I want to go to sleep. But if I use my heated eyelash curler it seems to perk up the lashes, not to mention me in general.
Mine came in black for $13 at amazon.com. Last week I was in Ulta and saw this cute pink color for $18. I would still pay $5 less and skip the pink.
I don't think this heated eyelash curler would ever replace the regular eyelash curler I use every morning. My current favorite is the Kevyn Aucoin. However, I do think it is a great pick me up for refreshing the eyelashes AFTER mascara is applied, and I am happy to add  it to my arsenal of eyelash enhancements.