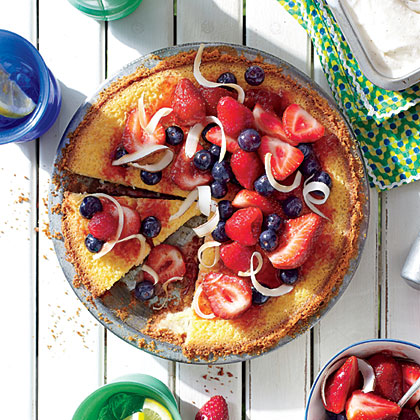 Who wouldn't want this yummy summer pie? Who doesn't love pie? I'm sure it's just as good sans the al-kee-hol.
Whiskey Pie With Tipsy Berries
1 2/3 cups finely crushed graham cracker crumbs*
3 tablespoons sugar
1/4 cup butter, melted
2 tablespoons all-purpose flour
1 cup sugar
3 large eggs, beaten
1 cup buttermilk
1/2 cup butter, melted
2 tablespoons bourbon
1 teaspoon vanilla extract
1/8 teaspoon sea salt
Pinch of freshly grated nutmeg
Tipsy Berries – see below
Preheat oven to 350°. Stir together first 3 ingredients; firmly press on bottom and up sides of a 9-inch pie plate. Bake 10 to 12 minutes or until fragrant. Cool completely on a wire rack (about 30 minutes). Reduce oven temperature to 325°.
Whisk together flour and 1 cup sugar. Whisk in eggs until sugar is dissolved. Whisk in buttermilk and next 5 ingredients until smooth. Pour into crust.
Bake at 325° for 45 to 50 minutes or until puffy and golden. Cool completely on a wire rack (about 1 hour). Chill until ready to serve. Serve with Tipsy Berries.
Tipsy Berries:
1 (16-oz.) container fresh strawberries, sliced
1 cup fresh blueberries
1/2 cup fresh raspberries
1/4 cup shaved fresh coconut
2 tablespoons bourbon
2 teaspoons sugar
Stir together strawberries, blueberries, raspberries, coconut, bourbon, and sugar. Let stand 30 minutes. Serve with a slotted spoon.
*Chocolate graham crackers may be substituted.