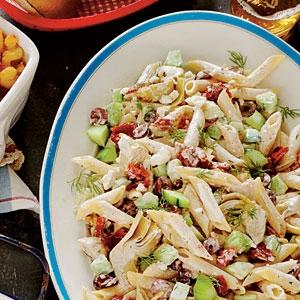 This pasta salad is great on its own or as a side dish for your weekend barbecue. Enjoy this recipe from Southern Living Magazine.
Tangy Tzatziki Pasta Salad
1 (16-oz.) container low-fat plain Greek yogurt
1/4 cup olive oil
1 tablespoon chopped fresh dill
1 tablespoon lemon juice
1 teaspoon sea salt
1/2 teaspoon freshly ground pepper
3 garlic cloves
1 (16-oz.) package penne pasta
1 cup pitted kalamata olives, sliced
2 cucumbers, peeled, seeded, and diced
3/4 cup sun-dried tomatoes in oil, drained and chopped
1 (9.9-oz.) jar marinated artichoke hearts, drained and chopped
1 1/2 cups crumbled feta cheese
Process first 7 ingredients in a food processor 30 seconds or until thoroughly blended. Transfer to a bowl, and cover and chill 1 to 24 hours.
Cook pasta according to package directions; drain and rinse with cold water.
Place cooled pasta in a large bowl. Stir in olives and next 3 ingredients until well blended. Add yogurt mixture, and stir just until well coated. Gently stir in feta cheese. Cover and chill 1 hour.