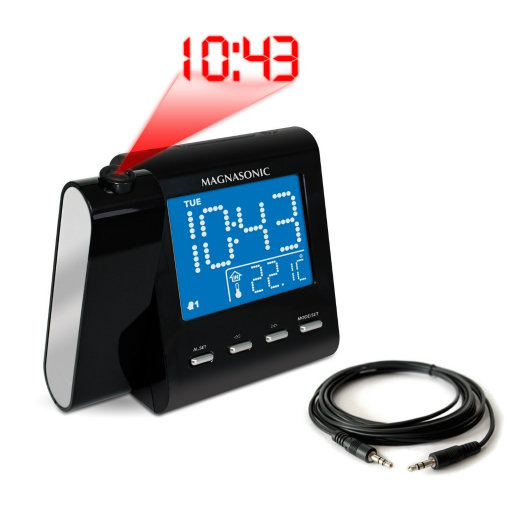 Whew! That is some product title, huh? Don't tell my husband, but I got him the Magnasonic MAG-MM176K AM/FM Projection Clock Radio with Dual Alarm, Auto Time Set/Restore, Temperature Display, and Battery Backup
 for Christmas. It's really a gift for me more than him. He just wants something that buzzes and wakes him up. But lately we have had the power going out in our house due to storms, construction, whatever (not lack of paying bills!), I have finally had it with constantly resetting the alarm clock. So I immediately went online to amazon.com and found an alarm clock that not only had a battery backup, but also automatically reset the time! YAY!
From Magnasonic:
Automatically Sets the Time/Date & Restores Alarm Settings after Power loss
Projects the Time on Your Wall or Ceiling; Dual Alarms with Optional Weekend Skip
AM/FM Radio with Digital Station Display; Temperature & Calendar Date Display
Connect Your iPod or MP3 Player; Blue Backlit 3.6″ LCD Screen
Wake to Radio/Buzzer/Time Projection
And it will project the time on the wall or ceiling! Cannot wait until he opens this so I can play with it!