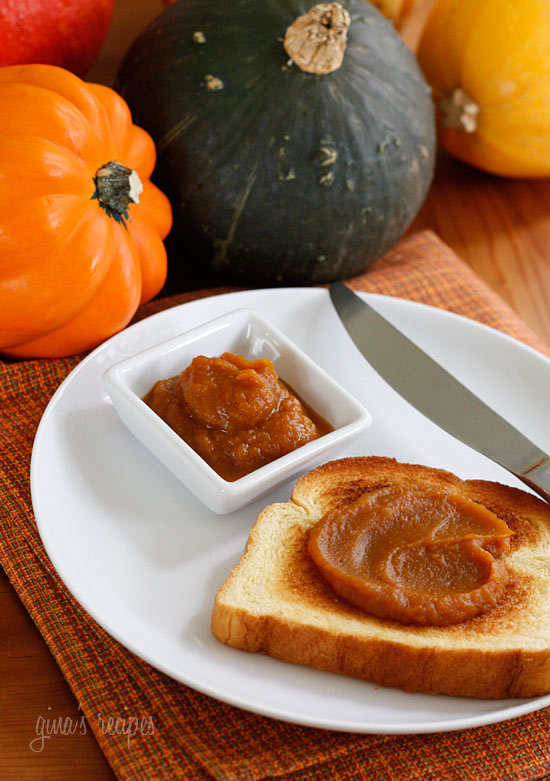 Doesn't that look yummy? There is nothing better than pumpkin butter on toast! Oh wait; there is something better, low calorie pumpkin butter! Only one weight watcher point for two tablespoons!
I've been making this recipe for years, and it's so easy I can make plenty for my husband and me and plenty to give away to my friends and family. Then they think I'm some sort of master baker with a big, kind heart. Let's just keep this easy recipe between us.
Pumpkin Butter (from skinnytaste.com)

Servings: 30 • Serving Size: 2 tbsp • Old Points: 1 pts • Points+: 1 pts
Calories: 32 • Fat: 0.1 g • Protein: 0.5 g • Carb: 9.5 g • Fiber: 1.3 g • Sugar: 8 g
Sodium: 3.5 g
3 1/2 cups pumpkin puree, or 1 (29 ounce) can (not pumpkin pie filling)
2 tsp vanilla extract
3/4 cup apple cider or juice
1 cup packed brown sugar
2-3 cinnamon sticks
1-2 tsp pumpkin pie spice (to taste)
Combine pureed pumpkin, vanilla, apple juice, spices, cinnamon sticks and sugar in a large saucepan; stir well. Bring mixture to a boil. Reduce heat, and simmer for 30 – 40 minutes or until thickened. Stir frequently. Adjust spices to your taste. Makes 3 3/4 cups.