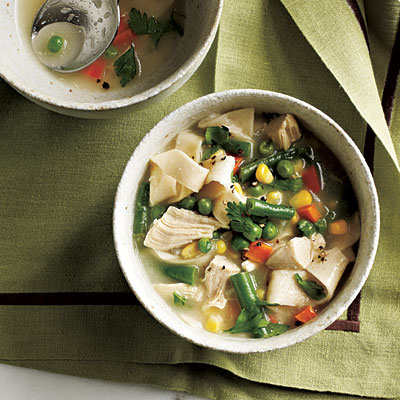 One of my very favorite comfort foods is Chicken and Dumplins'. Here is a lighter version from Cooking Light Magazine, and quick and easy too! And you can easily substitute that leftover turkey for the chicken.
Quick Chicken and Dumplings
1 tablespoon butter
1/2 cup prechopped onion
2 cups chopped roasted skinless, boneless chicken breast
1 (10-ounce) box frozen mixed vegetables, thawed
1 1/2 cups water
1 tablespoon all-purpose flour
1 (14-ounce) can fat-free, lower-sodium chicken broth
1/4 teaspoon salt
1/4 teaspoon black pepper
1 bay leaf
8 (6-inch) flour tortillas, cut into 1/2-inch-wide strips
1 tablespoon chopped fresh parsley
Melt butter in a large saucepan over medium-high heat. Add onion; sauté 5 minutes or until tender. Stir in chicken and vegetables; cook 3 minutes or until thoroughly heated, stirring constantly.
While chicken mixture cooks, combine water, flour, and broth. Gradually stir broth mixture into chicken mixture. Stir in salt, pepper, and bay leaf; bring to a boil. Reduce heat, and simmer 3 minutes. Stir in tortilla strips, and cook 2 minutes or until tortilla strips soften. Remove from heat; stir in parsley. Discard bay leaf. Serve immediately.