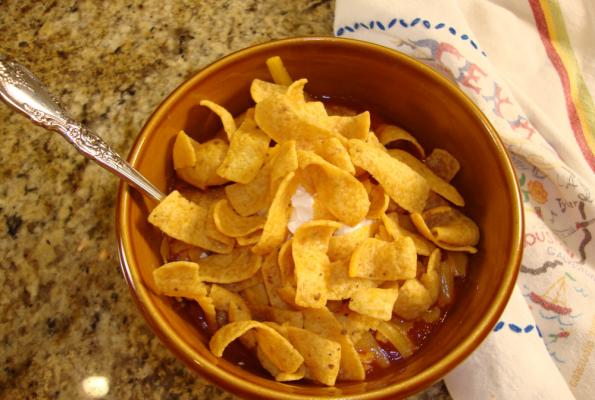 We Texans call this Frito Chili Pie. There is nothing better. You can even open a bag of fritos and dump the chili in it, then top with cheese and/or sour cream. Yum. I found this simple recipe on mytexastoday.com.
Amy's Texas Chili:
1 lb. lean Ground Beef
2 cans Hunt's Tomato Sauce – 29 oz.
1 can Red Kidney Beans – 15 oz.
4 – 5 Garlic cloves – pressed
1 cup chopped Onion
1 tsp. ground Cumin
2 Tbs. Gebhardt Chili Powder – can substitute with any other brand of Chili seasoning.
Toppings:
Grated Cheddar Cheese
Sour Cream
Fritos Corn Chips
In a large skillet, brown ground beef with onion and garlic.
Add remaining ingredients and simmer on low stirring occasionally.
Serve with grated cheese, dollop of sour cream and a handful of Fritos Corn Chips on top.