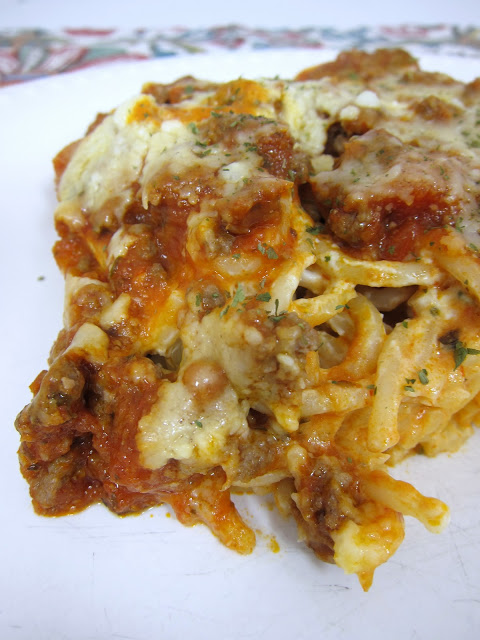 Man-oh-man do I love spaghetti. My husband used to make spaghetti every Tuesday. My son sometimes still refers to spaghetti Tuesday. I have never thought to add cream cheese to it. My favorite ingredient that makes anything better is cream cheese. Here's a fabulous recipe from plainchicken.com.
Baked Cream Cheese Spaghetti Casserole
12 oz spaghetti
1 (28 ounce) jars prepared spaghetti sauce
1 lb lean ground beef
1 tsp Italian seasoning
1 clove garlic, minced
8 ounces cream cheese
1/2 cup parmesan cheese, grated
Preheat oven to 350 F degrees.
In a skillet, brown the ground beef until cooked through; drain fat and stir in spaghetti sauce.  Set aside.
Cook spaghetti according to directions on packet.  Drain and place cooked spaghetti in bowl.  Add cream cheese, Italian Seasoning and minced garlic.  Stir until cream cheese is melted and the spaghetti is thoroughly coated.
Lightly grease a 9×13″ pan.  Spread a small amount of meat sauce in the bottom of the dish.  Put spaghetti on top of sauce and top with remaining meat sauce.  Sprinkle parmesan cheese on top.
Bake for 30 minutes, until bubbly.