Who doesn't love food? Well, I suppose there are some.  And if you are one of those few, or on a diet, you need to just skip this post.  My apologies.  DO NOT click on the link.  I cannot be held responsible for you breaking your diet.  Sarabeth's Kitchen is a great online source for shipping a treat or two for yourself or a loved one.  I recently received the Breakfast-In-Bed Combo, which had three loaves of bread – which let's face it – was cake, and three jars of granola.  I'm not sure how many people sleep in Sarabeth's bed, but this was BreakfastS in bed!
Sarabeth's Kitchen also has thirteen flavors of preserves, cookies, cakes, teas, and coffee to choose from.  I love sending something different food wise than the normal cookies, fruit, or chocolate!
It's one of Oprah's favorites . . .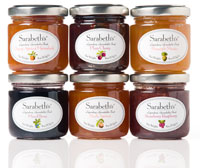 Sarabeth also has a blog where she shares some great recipes so be sure and bookmark Sarabeth – Goddess of Bakedom.