Cuteness Alert!!!!! This site has lots of cute baby/toddler gifts. I love the pacifier keepers, which have the baby's name spelled out in little beads. Such a large selection of ribbon and thread to make it even more personal for your baby, grandbaby, etc. You can purchase an embroidered gift set, which includes the pacifier keeper, a onesie, and burp cloth, all personalized, for $30. Perfect baby gift!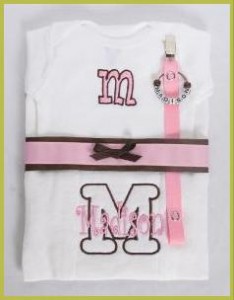 The Scribbles and Dribbles site also has sippy cup straps to attach to a car seat or stroller to keep the sippy cup clean and off the ground. If I had grandchildren, and I don't, I would definitely be purchasing these because I'm such a germaphobe! Scribbles and Dribbles also carry crayon carriers that can be personalized. What a great idea to keep your toddler entertained at a restaurant, church, or traveling to grandmas. Which again, wouldn't be my house . . .
If you have babies, small children, or grandchildren, please share with me some of your favorite sites for baby gifts and I will post them too!