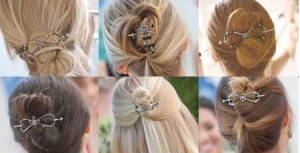 Aren't these adorable? The flexi-clip from Lilla Rose is a flexible hair clip with an attached sliding pin.  Attached sliding pin means you never lose it! Very sturdy, easy to use, and stays put all day long! The Lilla Rose flexi-clip is so much more stylish than a plastic clip or hair band and so comfortable! No headache, I promise! It has a beaded figure eight wire clip that flexes around the hair (hence the name, flexi- DOH) with the attached pin that pushes through and holds your hair in place, whether you want an updo, half do, french twist or pony tail.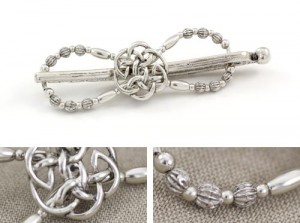 The celtic knot is my personal favorite because its all silver and I don't have to think about matching.  However, there are a ton of different styles and colors to choose from.  The flexi-clip can go from casual to formal.  I use mine daily once it starts getting hot and I want to get the hair off my neck, you know, because I have hot flashes! Be sure and check out the instructional video with sizing information here. Trust me when I tell you that you should use the size they recommend. The first time I purchased, even though I knew better, I ordered the small instead of the extra small, and it was too big. My hairdresser is happier today because she got those clips and I reordered in the right size. Lilla Rose has other products on its website: orings, hair sticks, hair bands, bobby pins, eyeglass holders, necklaces and earrings.  I can personally attest to the quality of these products.  Individual consultants sell the product line. I ordered mine from Kathy Penny at a craft fair, but have since reordered from the website. Full disclosure, as usual no one pays me or gives me anything to endorse their product.
I hope you check these out and if its not something you would enjoy personally, bookmark for your daughter, or granddaughter, or girlfriend. I think if you are 8 or 80 you will love these clips!