The list is long of the philosophy products I have in my arsenal! This company sells skin care, fragrances, bath and body and makeup. I think my first product years ago was Hope in a Jar. What woman couldn't resist buying that? All of their products have such clever names, and always have inspirational messages on the packaging. I always keep a bottle of bath and shower gel in my guest bath because it can be used as shower gel, body wash, shampoo, or bubble bath. It's one-stop shopping for my guests! The fragrances, oy vey! All the bath products smell delightful, as do the fragrances. All are very clean smelling. Makes me smile just thinking about it.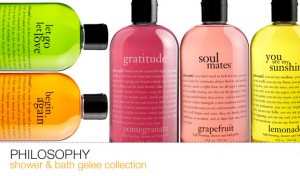 But the real deal is their skin care. When they say hope in a jar, sister, they mean it. My new favorite is the Miracle Worker line. I'm old, I've now gone beyond HOPE to MIRACLE. I've been using the Miracle Worker Retinoid Pads for about six months and immediately noticed a difference in the texture of my aged skin, as well as the lightening effect. My skin is brighter and my age spots have minimized significantly. Once I started noticing the age spots fading, I started using on my hands, and chest. I want those suckers gone. I have added the Miracle Worker eye cream to my evening regimen. I think Oil of Olay has some similar products, and I plan on trying when my Miracle Worker pads run out, just to see if it is similar because of the difference in price. But even at the price (which is around $70 for 60 pads) it's worth it to me.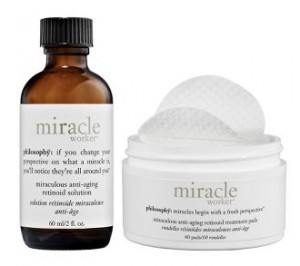 Philosophy products are sold everywhere. However, a dear friend recently told me she started purchasing direct from philosophy.com because of the free shipping after $50 purchase, and no sales tax (in Texas, but as with any other internet company, if there is a store in your state, you get charged sales tax). I love my smart friends! Plus 12% back from ebates!
What philosophy products do you use? What product can you not live without?