Recently I was looking for a larger container for my makeup brushes, and found this adorable brush container from eyeslipsface.com for $15. Clever name, right? I love that it shows the brand name.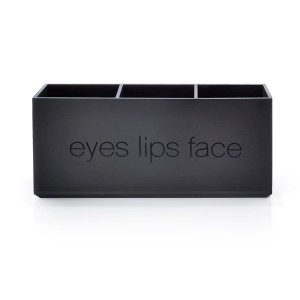 So, I had to get it, right? I mean $15? It holds a lot of brushes. Since it holds so many, and surprise, surprise, I really didn't have enough to fill it up, I added my eyeliner pencils in one of the sections. I also can hang my tweezers, small scissors, etc., off the side. The website says its made up of "luxurious material" that is easy to clean and durable. I would agree with that. It does feel luxurious and durable, and you can clean it. However, I can't tell you what the material is. DOH! I feel so stupid.  My best guess would be plastic, although it is a very sturdy plastic.
They have a smaller one for only $5.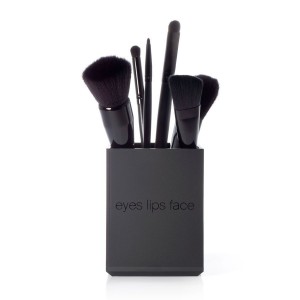 Now, me being me, I had to order a few more things to qualify for free shipping. Of course, as is always my luck, as I write this column today they are offering $1.98 shipping on any order. When I ordered I think it was $25. But as often happens, I always get something I need anyway, or can give as a gift. Let me tell you girls (and boys who wear makeup) this site has a lot of makeup that is very, very cheap. Cheap in price, but not quality. I always look at the "bestseller" category if there is one on a site and choose from there. I purchased a the high definition powder for $6.00, and an eye shadow palette for $5. The container and all that for $25!  No tax, no shipping. The container is really my favorite, and I will be going back to get more for gifts. Who wouldn't want that cute thing sitting out on the vanity?