Did you know that Sally's Beauty Supply has a line of generic products? Well they do. Sally's Generic Value Products, or "GVP".  Years ago my hairdresser told me that I could buy the generic of Sebastian Shaper Hair Spray at Sally's for about one-third the cost.  Shaper:  $16, GVP: $8.  Not a hard decision.  I have used it for years and never noticed any difference.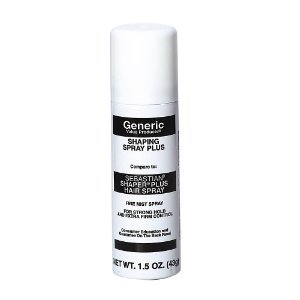 I also use these two GVP products for shampoo and conditioner:
GVP Moisturizing Shampoo, which is the generic of Nexxus Therappe Moisturizing Shampoo. Nexxus:  $12 (for 13 oz.) GVP: $6.  (16 oz.)
GVP Moisturizing Conditioner, which is the generic to Nexxus Humectress Moisturizing Conditioner.  Nexxus:  $17 (for 13 oz.) GVP: $6 (16 oz)
No foolin' here kids, this is my favorite shampoo and conditioner, and I have three other shampoos and four other conditioners in my shower!
Sally's Beauty has an on-line store if there isn't one in your area.  Here's a link for the entire line of GVP products at Sally's:  GVP.  I prefer to go into the store because I love to play with beauty products!