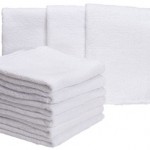 This post is a quick tip.  Instead of using my good washcloths that match my towels, I buy cheap white washcloths. I use washcloths to clean off my makeup at night and in the morning as I get ready to clean off my eyeshadow brushes, etc. The cheaper the better, because you know my mascara habit. They get a little stained after a while. When they get too discolored to continue to use on my face, I move them to the kitchen to become rags to use to oil my front door, oil my patio furniture, or whatever else I need a rag for.  They basically could last me forever even dirty but there is just something about using a nice clean washcloth on my delicate face. I usually get mine at Sam's Club, but you can buy them in bulk at Target or any other discount store.
When I travel I take some from the rag drawer and then throw away each night. That way I don't have to use a hotel washcloth or discolor a friend or relative's washcloths with my makeup removal.
It's the simple things.