It's been hotter'n a goat's butt in a pepper patch. It's so dry the trees are bribing the dogs. It's hotter'n hades.  It's so hot you could fry an egg on the sidewalk. It's HOT, okay?
Here's a great product to immediately cool you down.  Citrus Ice Cool Off Towelettes. These towelettes come individually packaged so you can keep some in your car, in your gym bag, suitcase, golf bag, backpack, purse, or pocket. Just don't leave your cool air-conditioned house without these. We have had over 20 days of 100 degree temperatures in a row in Texas. And it's not even August yet. These towelettes immediately cool you down.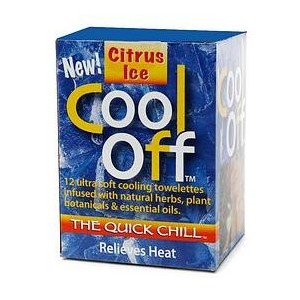 Get these quick.  You'll be as happy as a tick on a fat dog.