Well, summer is almost over.  Fall will be upon us all shortly.  Don't you worry dear readers; we will have lots of fall recipes to come. Today is one last light summer recipe to enjoy. You can enjoy all year but it does seem to be one of those summer desserts. If you live in Texas, you will have about two more months of summer to enjoy.
My friend Rhonda made this for me once at the lake, and I loved it and insisted she give me the recipe or I would hurt her.  She complied.  And note all the dietetic ingredients!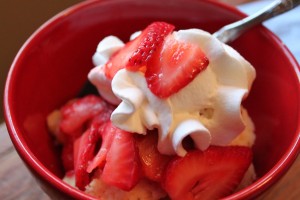 RHONDA'S STRAWBERRY SHORTCAKE

1 Sugar Free Angel Food Cake  – cubed

1 8oz tub of thawed Sugar Free Cool Whip (or Light)

1 Fat Free Cream Cheese – softened) (or Light)

1/4 cup Powered Sugar

5 cups fresh strawberries (I use 2 containers that you buy in the store)

1/4 cup Splenda

Slice strawberries, sprinkle with splenda (set aside)

Combine cream cheese, powered sugar.  Fold in cool whip and cake

Spread in the bottom of a 9×13 pan.  Chill 2 hours.  Cover with strawberries.

You can add more whip cream if you want!……………we always want!!!