I love the crock pot.  Best invention ever.  I especially love stuff i can just toss in and leave for the day and then come home to a home cooked dinner.  You know, kind of like having a wife.  It doesn't get easier than this recipe.  And I have it cooking right now as I type!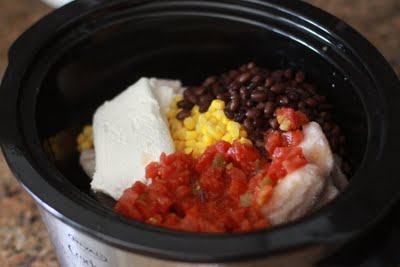 Crock Pot Mexican Chicken
8 thin sliced chicken breasts, (or 4 regular size.  I love buying the thin sliced, you know, because I'm so thin)
1 can black beans
1 can rotel
1 10 ounce bag of frozen corn (you can use a can of corn, but I prefer frozen)
1 8 oz. package of 1/3 less fat cream cheese
Now pay attention.  This is a very difficult recipe.
Spray crock pot with cooking spray
Add chicken
Dump in the rest
Cook on low 6-8 hours.
Please email me if you have any questions as this is a very complicated recipe.