Once, when I thought I was ordering Boots night cream (see previous post – love that stuff too) I accidently ordered Booth's Shea Butter Nighttime Dream Cream.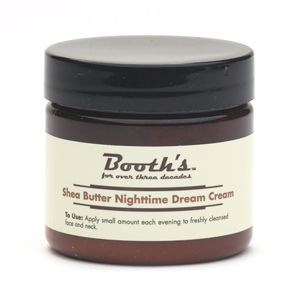 Lucky me, because I love this stuff. I like to switch it up. Like my shampoos, conditioners, and hair care products, I have several nighttime moisturizers and eye creams. I think if you combine all the goodness from each product you are bound to end up looking like a goddess. And I do. At least in my mind.
Love Booth's Shea Butter Nighttime Dream Cream because it is thick but not sticky. I use this product more in the winter because it is so thick, and I always seem to think I need to really slop it on in the winter. Did I mention inexpensive? Always a plus. It is a very small jar, but it will last you a long time. Especially if you switch it up with other products.
Booth has an entire line of products, including day creams, hand creams, body scrubs, and eye creams. Excuse me while I go order some more products.