Is this a salad or a dessert? This is my mom's recipe.  She always made an extra pan of it for my husband to take home with us because it was his favorite, and he got upset because my family would devour it before he even got any.  He was her favorite son-in-law.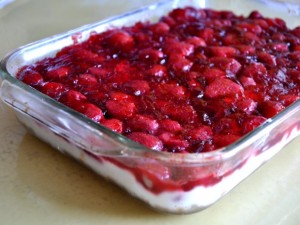 Pretzel Salad
Crust:
2 c. crushed pretzels
¾ c. butter – softened
3 tbsp. sugar
Bake crust  in 13x9x2 dish at 400° for 10 minutes – cool.
Middle Layer:
1 8 oz softened cream cheese
9 oz cool whip
¾ c sugar
Mix together to creamy texture
Top Layer:
6 oz Jello – strawberry or raspberry (use 2 c. boiling water, not 4 cups)
20 oz frozen fruit – strawberry or raspberry (thawed)
Combine jello with boiling water, add fruit and let slightly set
Put middle layer over cooled crust.  Add top layer and refrigerate until ready to serve.