What will they think of next?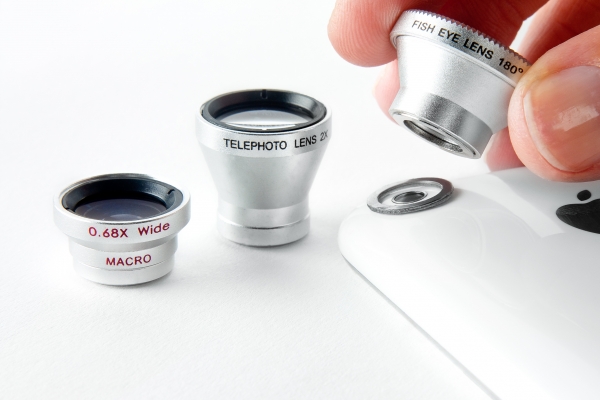 You can find these three lenses at photojojo.com for $49. You can buy them separately for $20-25, depending on which one you purchase. They claim to work with any camera phone, but only feature photos of the lenses with the iPhone.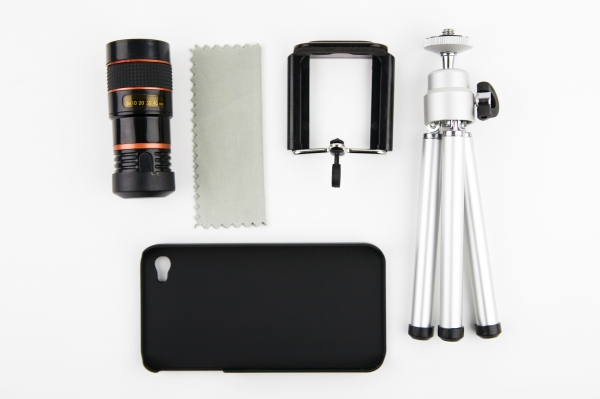 They also carry this 8x telephoto lens with accompanying equipment for $35, and is specifically for iPhone 3 or 4.
Have you started relying more on your smart phone for photos instead of bringing your camera along? Listen, I'm ancient, as we all know. I'm from the day when you used to actually have to purchase film to go into the camera.  And, you won't believe this, but it didn't even have a zoom! In scanning my old photos recently I realize how important the zoom feature is now. Some shots of my son at school events, etc., you can barely make him out.  Anyway, back to the point. So even though cameras now are all so teeny tiny, and fit in a pocket, most of us just keep our handy smartphone around. The set of three shown above could easily go in your pocket, purse, etc., and would be really handy to have as an accessory to the iPhone.
There are multiple apps in the iTunes store for photo lenses also. In looking at the reviews, it appears they do not work very well, but at .99, it may be something you want to consider. Certainly more convenient to have it as an app than an attachment.
Did you know that you can actually zoom a photo you have saved on your iPhone and then save it as a screen shot? Okay, if you knew this remember not to tell me because I like to think I'm being helpful here. Oh, and when I shared this tidbit with my son he mocked me. He likes to do that. He should be called Mockyou instead of Matthew. That's funny. I just made that up. I crack myself up. Okay, back to my tutorial. Open photo you have on your iPhone, and then hold the home button and the power on/off button and it will make a sound like a camera taking a photo and there you have it.