I found this yummy recipe at tastykitchen.com. Unlike the previous two pumpkin bread recipes, this recipe only makes one loaf.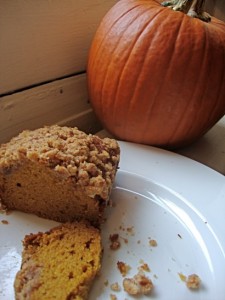 Pumpkin Bread with Streusel Topping
Ingredients
FOR THE STREUSEL:
1 cup All-purpose Flour
½ cups Firmly Packed Light Brown Sugar
1 stick Melted Butter
2 teaspoons Cinnamon
_____
FOR THE PUMPKIN BREAD:
2 whole Eggs
⅓ cups Cold Water
½ cups Oil
½ cans Pumpkin Pie Filling
1-¾ cup All-purpose Flour
1-½ cup Granulated Sugar
1 teaspoon Baking Soda
¾ teaspoons Salt
½ teaspoons Cinnamon
½ teaspoons Nutmeg
Preparation Instructions
Preheat oven to 350°F. Coat a 9 x 5 x 3-inch loaf pan with cooking spray.
Streusel: Combine flour, light brown sugar, melted butter and cinnamon in a medium bowl. Stir with a fork until crumbly.
Pumpkin Bread: Beat eggs, add water, oil, and pumpkin pie filling. In a separate bowl combine flour, sugar, baking soda, salt, cinnamon, and nutmeg. Add the wet ingredients to the flour mixture and fold just until dry ingredients are moistened. Spoon mixture into the prepared pan and sprinkle streusel topping on top.
Bake for 1 hour or until a knife comes out clean when inserted in the middle of the bread.