This month the Consumer Cafe is going to give you four different ways to make delicious pumpkin bread. This recipe and two others will make two loaves.  I like to make ahead and freeze or give a loaf to a neighbor or take to work, so I love the idea of making more than one loaf at a time.
First up:  Pumpkin Chocolate Chip Bread: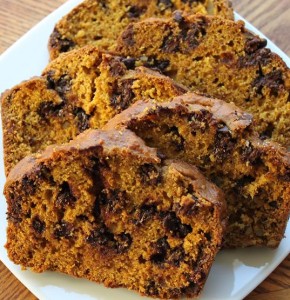 Pumpkin Chocolate Chip Bread
3 1/2 Cups flour
2 Cups sugar
2 tsp baking powder
2 tsp baking soda
1/2 tsp salt
1/2 tsp cinnamon
4 eggs
1 Cup oil
1 Cup walnuts (optional)
2 Cups pumpkin (16 oz)
1 Bag milk chocolate chips (or you can use semi-sweet)
Mix all together by hand. Pour into greased loaf pans and bake on lower rack @ 350* degrees for 1 hour and 15 mins.
(*or 325 if dark pans)
Makes 2 loaves