That's right kids, Nutella and pumpkin. Nutella is my new favorite ingredient. I found this yummy recipe at realmomkitchen.com.  You can make this recipe as four mini loaves, two regular loaves, or even muffins. Note the bottom of the recipe where she states she would add in even more Nutella.  My kind of gal!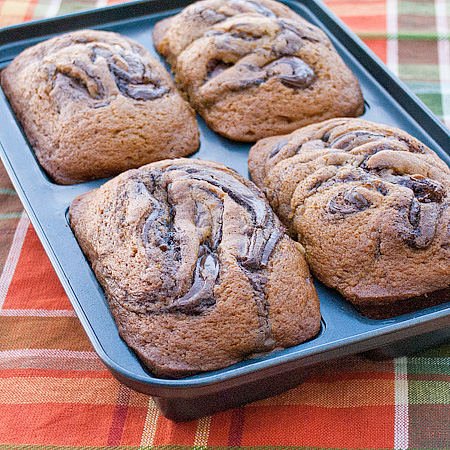 Pumpkin Nutella Swirl Bread or Muffins
1 3/4 cups all purpose flour
1 teaspoon baking soda
1/2 teaspoon salt
1/2 tablespoon cinnamon
1 1/2 teaspoons nutmeg
1 1/2 cups sugar
1/2 cup canola oil
1/3 cup water
1 cup canned pumpkin (not pumpkin pie filling)
2 eggs
1 teaspoon vanilla extract
8 tablespoons Nutella (2 tablespoons per mini loaf) ***see note below
Preheat the oven to 350 degrees F. Spray 4 mini loaf pans with cooking spray. Set aside.
In a medium bowl, whisk together flour, baking soda, salt, cinnamon, and nutmeg. Set aside.
In a large bowl, whisk together sugar, oil, water, pumpkin, eggs, and extracts. Whisk until smooth and combined.
Slowly stir in the flour mixture. Mix until ingredients are combined.
Pour the batter into the loaf pans, making sure batter is evenly divided. Drop 2 heaping tablespoons of Nutella onto each loaf pan. Swirl the Nutella into the pumpkin batter with a knife. Place the loaf pans onto a baking sheet and place in the oven. Bake for 40-45 minutes or until a toothpick comes out clean.
Place the loaf pans on a wire rack. Cool for 15 minutes in the pan and then carefully remove the loaves. Cool completely before slicing.
*Note-You can make regular size loaves. This recipe should make 2 8×4 loaves. Adjust baking time to about 60 minutes. You can also make muffins, but I am not sure how many you will get from a full recipe since I did some mini loaves and some muffins. For muffins cook between 15-20 minutes. I also recommend doing additional nutella in the middle of you muffins or loaves. Just fill the pan half way and swirl in some nutella just like the recipe calls for on top.