Monogrammed necklaces are becoming very popular.  I hate to admit that the first time I saw one was on The Real Housewives of Orange County, where the husband was bragging to his wife that it had seven carats of diamonds in it.  I'm going to give you a cheaper version.
I first saw this Acrylic Monogram Necklace in Southern Living Magazine.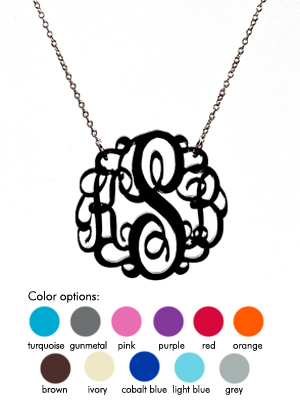 It comes in three sizes.  The small (one inch) is $58, medium (1 1/4 inch) $68, and large (1 5/8 inch) for $78. As you can see, it comes in a variety of color options, and you pick between a sterling silver or gold-filled chain.
I'll be doing a lot of Christmas gift ideas this month, so you will have plenty of time to suggest gifts that you want, or to purchase your gifts! Don't forget personalized gifts can take longer so always allow time for that.