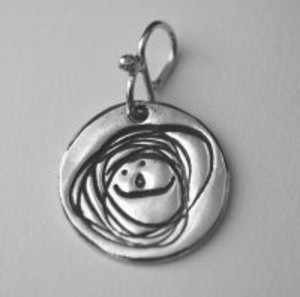 I love technology.  Look at this great concept.  For $125 (I know, it's kind of pricey but priceless at the same time!) you can upload an image of your child's artwork and mommytags.com will make a necklace tag out of it! From mommytags website:
Now you can wear your child's (or your own) art! Simply upload a scan of a doodle or personal signature and we'll make it into a tag for you. To achieve the best results, we suggest using a black Sharpie pen for a doodle or signature and keeping the doodle as simple as possible without any color.

You'll receive the recycled silver doodle tag along with a professionally wood mounted rubber stamp of the doodle and a small black 1 inch stamp pad which will enable you to stamp your doodle on paper, wood or fabric. You can use the stamp to make your own thank you cards, personalize your artwork, scrapbooking pages, t-shirts or any other ideas you may dream up. When stamping on fabric, remember to heat set the stamp before washing.

The Doodle Tag measures approximately 1 inch wide. You can send us any size of artwork and we'll shrink it to fit. Your rubber stamp will be slightly larger than the stamp on your tag. You own the copyright to your artwork. We do not sell or distribute your artwork to anyone, nor do we keep it for our own use. The rubber stamp is produced by a local professional rubber stamp maker. It is made by a machine and is not handcarved.
What mother or grandmother wouldn't love that? You can buy the chain from their website, or even a keychain to use with the tag.  Be sure and check out all the other products on their website.