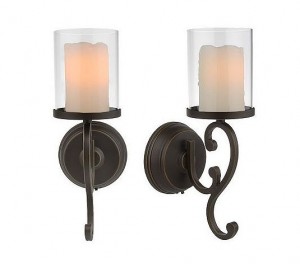 I purchased this set of two Candle Impressions Melted Wax Flameless Wall Sconces with Timer (Item #H07026) from QVC a few years ago. I love them because they run on a batteries, require no wiring, and give light to my hallway at night. I also love them because they have a 5 hour timer, so I set them to come on every evening at 6 pm, and they automatically go off at 11 pm. Very handy when I come home after dark and the hallway is already lit for me.  These sconces give the effect of a flickering candle. QVC has several others models to choose from.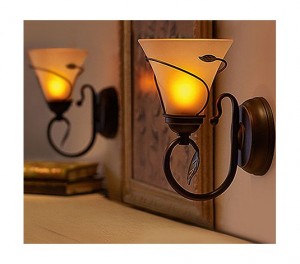 The above sconces were not available when I ordered mine. If mine ever break, I think I would order these. They look like they give off more light, and are about $10 cheaper than the ones I purchased. (QVC Item #H191211).
I like ordering from QVC because they always have a 30-day money back guarantee on everything, and they have customer reviews, which I always read before ordering anything. Most sites have customer reviews and there have been several times that I have ordered, and not ordered, based on reviews.