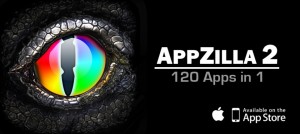 If you get only one app – this is the one to get. Appzilla 2 has 120 apps in one for a cost of .99 cents. It is also available on Android.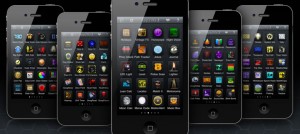 I will admit, it has a lot of apps you probably will never use.  But for the price, there is enough apps you will use to satisfy you. I'm not going to list all the apps, but I will list a few that I like.
Crystal Ball – for those moments in life when you just need the answer.
Night Vision Camera – seriously – you open it and can see in the dark. Great for keeping away the boogieman.
Loan Calculator – you can always use this when buying a car because you never want to tell them what YOU want your monthly payment to be, but you can figure it out right in the dealership.
Hearing – I love this one. It really works. I have found that although my right ear is that of a 30 year old, my left ear is that of a 50 year old.  Nice at least to know I am normal in hearing because my husband always tells me that he tells me stuff and I don't hear it. Now I have a test to prove him wrong!
Sound Box – ever just want your own rim shot? You can find it under this app.
Sleep Aid – sounder with nine different sounds for help in your zzzzzzzz.
 There are a few apps for the spy in you – like a secret microphone and secret camera. It also has a motion alert you can set and leave the room. If someone tries to pick up your camera an alarm goes off. I'm quite certain my son has this installed so I never touch his iPhone, although I'm sure it has 15 levels of security passwords too. What is he hiding?
There are different photo editing apps included. Multiple games for both children and adults, and of course a lot of others that total 120 apps for only .99.
If you already have Appzilla on your smart phone what apps are included that you use? Let me know in the comments section.