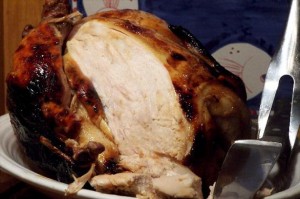 You know I love a crock pot recipe! I have used this recipe for years and years. I know you can pick up a Rotisserie Chicken at any grocery store but this one is better because you can know and control the amount of oil and salt you use. I use olive oil flavored cooking spray because it's no calories, but you can also brush lightly with olive oil. The most important thing is to sit the chicken on top of the foil balls, so that it doesn't sit in the juices while cooking. It is easy and delicious! If you want to make baked potatoes to go with the chicken, just wrap them in foil and use them to sit the chicken on to cook. Did you know that you can wrap potatoes in the crock pot, go to work, and come home and have the yummy baked potatoes that have to cook for hours in the oven to come out right? I do that all the time too. I hate microwave baked potatoes!
Crock Pot Rotisserie Chicken
1 whole roasting chicken
olive oil flavored cooking spray
seasoning salt, to taste
Make 4 or 5 loose balls of aluminum foil and place in bottom of crock pot.

Clean chicken inside and out. Spray with olive oil spray.

Sprinkle generously inside and out with seasoned salt.

Put chicken back-side down in crock pot (on top of foil balls).

Cook on high 4-6 hours.