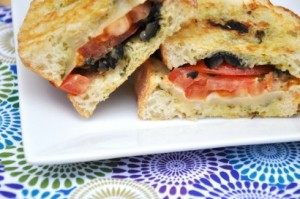 I found this scrumptious recipe on tasty kitchen.com, and had to share. Adds a little something to just a plain old grilled cheese. Don't get me wrong; I love plain old grilled cheese. This is more like company's comin' grilled cheese!
Pesto, Olives & Tomato Grilled Cheese
2 slices of Ciabatta/Bread
1 tablespoon pesto (prepared or your own recipe)
1 tablespoon olives, chopped
2 slices of organic tomato
5 slices fontina cheese
Olive oil spray
1. Plug in/turn on your indoor grill or Panini press.
2. Slice the ciabatta (or your favorite bread) into approximately 1/2-inch slices. Spread the pesto (make your own or use your favorite prepared pesto) all over one slice of the bread.
3. Chop up the olives (or buy them already chopped) and scatter them over the pesto. Lay the tomatoes on top of the olives and finish up the sandwich by placing the cheese over the tomatoes and top with the remaining slices of bread.
4. Spritz one side of the sandwich with olive oil spray, flip carefully and repeat. Place the sandwich on the grill/press and let the magic happen. Allow to cook until the bread gets all crispy and brown and the cheese is gooey. Flip and repeat if not using a Panini press.